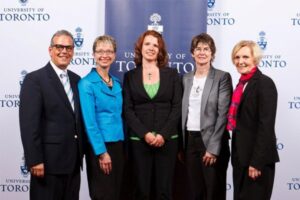 One notable initiative for which Ms. Drouillard deserves much credit is the Faculty of Medicine Youth Summer Program (MED YSP), which provides high school students with a glimpse into the world of medicine, medical research and the health science professions. Ms. Drouillard negotiates and administers nearly 25 scholarships for inner-city students coming from economically disadvantaged backgrounds. She also plays a pivotal role in generating revenues and administering the finances for the "hands-on" lab courses through which DTL fulfills its mandate of enhancing the educational experiences of undergraduate Life Sciences students.
Another important initiative under her watch was the creation of the Equipment Repair Centre (ERC), a joint partnership with Med Store that provides quality repair of lab equipment not only to the Faculty of Medicine researchers but to affiliated research institutes and interdivisional units. Researchers at these institutions are grateful for a service that provides quick, reliable repair, often of equipment that is no longer under warranty. Ms. Drouillard provides direct supervision of ERC staff and works with MedStore in developing marketing strategies and setting goals for the ERC.
Ms. Drouillard complements her administrative prowess with a caring and warm personality. She is happiest in situations where she can closely interact with and help others. Her dedication to her work has not kept her from pursuing her own personal advancement, including the completion of her Certified General Accountants designation. More recently she has pursued a program in Adult Training and Development at OISE. Ms. Drouillard finds time to serve as co-chair of the Faculty of Medicine's Group on Business Affairs and is also a member of the Green Committee.